What is serviced office space, how does it differ to conventional office space, and is it right for your business?
Jump to
What is a serviced office?
Shared work spaces are on the rise. Also known as serviced offices or co-working spaces, they provide companies with a nimble base for their staff, complete with all the necessary – and sometimes quirkier – amenities and services. From 24-hour opening times to drinks on tap, these office spaces represent a new age of working.
Companies offering serviced offices for rent are big business. In London in 2017 new space occupied by co-working groups exceeded that taken up by any traditional sector, including banking or technology. Investment in large-scale shared office companies is booming with The Office Group recently valued at £500 million. The American serviced office giant WeWork has signed an agreement to lease 280,000 square feet of office space close to Waterloo station – which will be its largest location worldwide. Businesses have recently injected further $4.4billion into the New York-based company, which now ranks as one the world's most valuable start-ups.
The rise of the flexible worker
But why the sudden growth in businesses choosing to rent serviced offices? This kind of shared workspace usually offers a more creative environment than a traditional office. Their business model appeals to a growing number of start-ups or individuals who want to benefit from the collaborative nature of an office, without signing up to a long-term financial commitment. The serviced offices of the 90's have shaken off their dull reputation in favour of a more modern hipster environment, where today's accidental co-worker might become tomorrow's newest client.
Renting a shared office space also suits the more transient and constantly-connected 21st century worker, who spends most of their time working on trains and planes. These people are usually focused on the growth of their business, not the running of an office, so have little need for a permanent HQ. The fact that serviced offices can expand and contract at short-notice is another plus for businesses that are more uncertain about their future.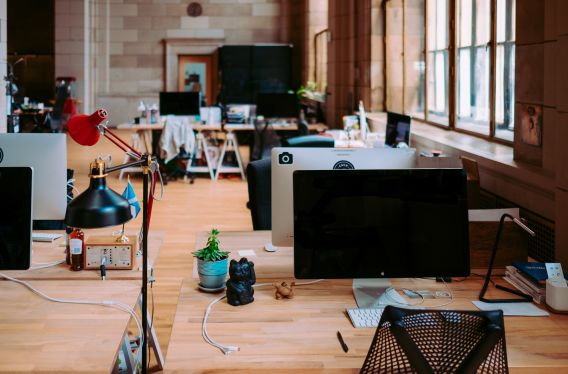 Renting office space provides flexibility as your business expands or contracts
An increasing number of SMEs and freelancers are also outgrowing their kitchen tables or local cafes and are moving into shared spaces which provide inspiration, socialisation and a professional place without any distractions.
Blue chip companies using serviced offices
A shared office's tenant base can also include blue-chip companies with the likes of British Airways, Disney and IBM all taking a more adaptable approach to working spaces. Further still, research from the CIPD has shown that more open-minded flexible styles of working can benefit both the employee and employer, improving staff engagement and motivation.
Some companies are opting for the flexible model post-Brexit in order to keep their long-term overheads low. The UK's exit from the EU is also causing concern for some SMEs, with 21% stating that the issue is already having an impact on revenue, which in turn is driving the trend for more flexible working space.
It's clear that renting shared offices can appeal to any type of company, but there's no 'one size fits all' approach - so you'll need to understand your options.
To buy, lease or licence office space
In the longer term, buying office space can prove more cost effective
Finding an office space is a big decision for any company. Broadly speaking, you can choose to either take a licence, lease or buy an office. Licensing relates to the renting of a serviced working space, which means you pay a monthly or pay-as-you-go fee on a fully inclusive basis. The biggest plus to this is that the agreement won't come with a long-term lease, which is usually one of the largest expenses a business will have to pay.
Renting a serviced workspace can mean anything from hot desking for a day to hiring a ready-to-go space for a year, whereas a typical lease agreement typically lasts around 1-2 years. If you're buying an office space, the upfront costs are even larger, but this is worth considering if you have the money to invest.
The benefits of leasing office space
Leasing an office space means you can put funds back into your business, which can be particularly useful if your company is still relatively young. If your business is growing, or if you're unsure whether you can currently justify a permanent space, then renting a serviced office can be a great option. The main benefit of this kind of agreement is that companies can occupy the space for long or short periods, as well as hop from one location to another if your provider offers multiple sites. The agreements are fairly straight-forward and you can usually move in the day after you sign the contract.
Serviced offices are furnished and ready to move in right away
Renting a serviced office is relatively hassle-free as the space is all set-up and ready-to-go. It's also more cost-effective in the short-term as you usually won't need a commercial property lawyer. Most of the running costs are usually included, such as rent, telephones, furniture, meeting rooms, utilities, cabling, tax, facilities and insurance.
Starting your office search
Like any business decision, it's worth giving some thought to your company's objectives before starting your search to rent an office space. Think about the marketing of your company and the kind of audience you want to attract. You won't be able to appeal to everyone, so have it clear in your mind what matters most to your business and how an office space can help reflect your priorities. Industry, size, location, culture, target market, values and the maturity of your business will all play a part.
Make sure your brief also takes your medium and long-term goals into consideration. For example, if the look and feel of your office is very important, then find for a space that will let you tweak your surroundings. If you're not planning on meeting clients at your office, then appearance and location might not be as important. Search for older buildings or options that aren't in a central location as these are usually more cost-effective.
Choosing the right serviced office for your business
One of the most important questions to ask will be how much office space do you need? The answer will help you decide which flexible working space is right for your business. For example, renting a hot desk is great for individual freelancers, whereas fixed desks are more suitable for more than one worker. You'll also have the option to rent a private office in a shared space, which still lets you to take advantage of breakout rooms and a more collaborative atmosphere. More traditional serviced offices tend to offer more stability for a larger team but can come with more paperwork.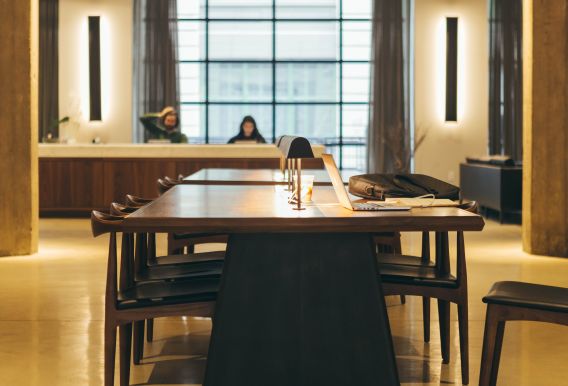 Decide whether renting a private office in a shared space, or desks, will be more appropriate for your needs
Make sure you visit all your prospective workspaces as if you were looking for a more permanent space and ask to try them out. If you plan to meet clients, the space should reflect your business values. The search facility from Harness Property will show you a range of serviced office options in your chosen area.
Check whether the space offers all the essentials, such as a high-speed internet connection, kitchen, lounge, printing and break-out spaces. Note whether there are available meeting rooms when you visit, if these are always busy, it might pay to look elsewhere than have a meeting confirmed and nowhere to hold a private discussion. Most serviced office spaces may also close at certain times so if you're more of an early-morning or evening worker, make sure the space fits with your schedule.
Selecting a good location for your office
When finding a serviced office, check whether transport links will enable you or your staff to get to the space easily. Do you need a car park close-by? Are there considerable works going on or due to start that may hamper travel? Consider whether your clients may also travel by car and the impression they will get from the area. What other kinds of companies have set up in the area? If your office address is imperative to your business, make sure it does your company justice.
Being able to leave the office and pick-up something to eat quickly is often an important consideration for workers. If you're setting up on your own, check there are eateries nearby that suit your taste. If you plan to take on permanent staff, consider other amenities such as post offices, shops or supermarkets.
Charges associated with serviced offices
Check your serviced office agreement carefully to determine which facilities are included, and which cost extra
As serviced offices usually require a license agreement (not a lease) they don't always involve credit checks or references, which reduces the administrative burden for your business. However, even serviced office spaces are varied, which means that rents can differ greatly according to the size, condition, facilities and the extra amenities on offer. Some offices may also charge for additional services, such as telephones. If you opt for more formal agreement which runs for a period of time, rents are usually paid monthly in advance. Location will also play a part, so consider offices that are positioned in the suburbs, or in slightly older buildings if you don't want to pay a premium. Be mindful that more formal agreements will usually ask for a deposit of 1-2 months' rent in advance and the typical termination period is 28 days – but check your paperwork before you sign as some will tie you in for a year.
Most agreements also include business rates, insurance, repairs, running costs and Stamp Duty Land Tax (SDLT) within their fees. If you're unsure what you're liable to pay it's worth having a legal professional look over the paperwork, especially if you're renting a larger space. Although this might seem like an additional cost, it will be much lower than the fees needed to set up a lease, or possibly an unexpected cost due to an oversight in paperwork.
Office class
Offices available for rental will generally be grouped into three categories – classed A-C. Class A offices are state of the art with all the mod cons. Typically, they will be positioned in a prime area and offer additional services such as a concierge, gym or even dry cleaning. Class B buildings can also be in a good position but are generally older buildings. Class C offices are generally in a less desirable area and can lack features such as attended lobbies.
Make sure you understand your building's class and what is included (and not included) within your rent. As always, make sure your office reflects what is most important to your business.
Your co-workers
Your office neighbours will have a huge impact on your daily working life
The networking opportunities that come with finding serviced office space means you'll meet a range of like-minded people who will enhance your creativity and challenge your thinking. However, sit next to the wrong kind of person and shared offices can be distracting. What kind of people do you want to interact with the most? Link this back to your business priorities. If you're aiming for inspiration, consider being among other like-minded professionals. On the other hand, you may like to learn from different kinds of professionals from other industries. If you want to network for new business, think about where your target market would be. For example, tech companies like to be around Old Street in London.
In some cases you may be going into an established working environment. Some companies are now renting out their spare desks, which can be very cost-effective. But ask yourself whether you are happy to go in as a 'newbie'. Your new office will also be a community of people – so make sure it's the right one.
Find your new services office space
Renting a serviced office will comes with many benefits, which means you can invest more time and money into running your business. Further still, you'll be able to network with others within a professional and often very creative working space. The short-term nature of this commitment can give crucial peace of mind to SME business owners, or larger companies who need a spread of office hubs. Either way, sign-up and join the serviced office revolution.
Disclaimer
The content in this post is for informational purposes only and is not intended to replace legal or specialist advice. Before making any decisions we recommend you seek professional advice.