This guide will help you through the process of acquiring retail space, providing money saving ideas and ways to find property in the right place.
Jump to
Online stores vs bricks and mortar
Nowadays, many businesses question the need for bricks and mortar stores, but recent research proves there is still a consumer demand for a physical shop space.
Online shopping might be on the rise in today's convenience-driven world, but this type of spending is fuelled and complemented by physical shops that have a part to play in the customer journey. If chosen correctly, a physical store can really benefit even a small business, providing a brand with local recognition. Major online retailers such as Missguided, Made.com and Bonobos have recently opened physical stores to further boost sales. Furthermore, research has shown that consumers still prefer to shop in a physical store if given the choice.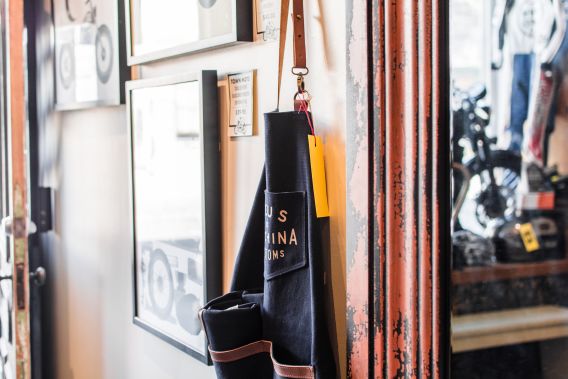 Having a physical presence often supports and boosts your online uptake
Therefore, renting or buying retail property has the potential to be a smart move, but sourcing commercial property is a very different ball game to finding a residential home. Whilst renting commercial space is still the popular option, there are a number of essential steps that can speed up and ease the negotiating process whether you plan to rent or buy.
Determining your budget for retail property
The first question to ask is whether renting or buying commercial space is best for your business. You need to consider your long-term plans and evaluate how long it would take to buy the property, versus the number of years you plan to rent. There are many retailers who fall into the trap of paying for a retail space many times over. They might do this in order to maintain cash flow through the business, but if this is not a problem and there are opportunities to invest, then you may end up saving or even making money on your premises if you buy.
It's important to consider your long term plans when determining whether renting or buying is right for you
If you do decide to rent, then the monthly or quarterly outgoings can still be one of the biggest overheads for a business of any size. Careful planning and budgeting is key to ensure you are not damaging your company's cash flow.
When drafting your budget, be sure to include utilities, taxes, broker fees, maintenance, insurance, fit out costs and at least 10% contingency for unseen costs. As a general rule, you should spend no more than 10% of your monthly gross sales on your lease.
Assemble a team of retail property experts
If you're venturing into renting retail space for the first time, make sure you surround yourself with a team of commercial property experts to help make the venture a success. A commercial property agent will help you understand the area you are interested in and avoid some of the common pitfalls to renting property. They will help draw up a shortlist of properties according to your brief and talk you through the process. Find a commercial agent in your specified area or draw up a shortlist of properties using the search function from Harness Property.
Make sure your team of specialists also includes an accountant, lawyer, surveyor, and (if required) a mortgage broker. Employing a reputable accountant to help you analyse what your business can afford, as well as the tax and other operating costs you will need to factor in. In addition, it's always worthwhile taking the extra time to find a specialist commercial property lawyer. Overall, employing the services of a specialist expert is likely to save you time and money in the long run as they are usually more familiar with the complexities of renting commercial property.
Experts can help make the process of finding your retail property seamless
Evaluate each potential retail location
Location is key for any business. Make sure you ask the right questions to determine whether the location is right for you: Do my customers live here? Do they shop here? How many people walk past here daily? Do they need public transport to get here? Am I offering easy access? Assess whether your target demographic shops within 2, 3 and 5 miles of the property, but be mindful of positioning your business near to a high number of similar retail outlets.
You will also need to consider other overheads such as rent, maintenance and decorating. When looking at the property, carefully inspect the walls, ceilings and floors and be honest with yourself about the amount of work it might need to reach a standard that matches your brand values.
If your instinct is to only look at shopping centres, be aware that these are fiercely competitive for new and small businesses as developers tend to prefer to work with anchor and heritage stores with proof of trading. Instead, consider high streets or other town centre locations where customer footfall is still high.
Asking for the opinions of others will help you make a well-informed decision. Take a trusted advisor who fits your customer base with you when exploring new areas for potential retail space, they may provide fresh and exciting ideas which you would not have considered alone. Make sure you speak to the local council to find out any development plans for the area, although this may initially seem positive, any investment in the locality is likely to affect the amount of rent you will pay to your landlord. Finally, speak to your potential neighbours, they may have the same landlord or be able to share some pros and cons about trading in the local area.
Decide how much space you need
Assessing the amount of space you will need should also include areas that aren't on show to your customers. Evaluate whether the space is large enough for your sales floor, but don't forget to factor in areas for storage, an office, toilet facilities and if needed, dressing rooms. Ensure that you make allowances for any growth plans, but remember, too much space for your stock will make your retail outlet appear empty, unkempt and may devalue your products. However, it's important to get your stock selling reasonably quickly and not spend too much time making changes to the property.
You may need space to expand quickly, so the option for flexibility can be advantageous
If your business grows quickly but doesn't justify the large financial and time resource of moving premises, assess in advance whether you can expand your existing space as a mid-term solution. If this isn't possible, but you know you are likely to need to expand quickly, then this commercial space might not be right for you. The price of moving premises frequently is costly and can damage your business by upsetting regular customers.
Naturally, the larger the space, the higher the shop rental, so make sure it is the right size without compromising on health and safety, or space and comfort for customers.
Draw up your shortlist
Spend time looking around to source different property options, locations and quotes until you have a shortlist of around five premises. Ask yourself whether the retail space meets your corporate, operational and workplace objectives. Is the space sustainable? Does it give you the storage and backroom space you need? Are all the relevant technology and electrical requirements there? Rank the property options based on your needs to help you decide the best retail space. Having other options to hand will also help with negotiations on your chosen retail space.
Evaluate your lease
There are different types of leases to consider when hunting for retail property. There are also factors such as lease length, break clauses and renewals that all contribute to the type of lease. As a tenant, it is essential that your lease matches your business requirements and that you fully understand all of its terms and conditions. Make sure you seek legal advice prior to making any final decisions.
Make sure you lease conditions correspond to your business now, and in the future
As the lease will be the most important factor to consider when looking for a commercial shop space to rent, ask yourself how long you want to commit to the space. If you are a new business or are unsure of the demographic and spending patterns in the area, then don't commit to a long contract. A shorter lease gives you more flexibility. Furthermore, always make sure you research the area to ensure the quoted price is fair and usual for shops in the proximity.
Bear in mind your personal circumstances when looking at leases. If you are unsure on how long you will be living in a certain area, or if family situations play a leading role in life decisions, then don't commit to long term leases that will affect future decisions.
Retail property lease negotiation
Once your lease has been evaluated, you will need to negotiate it directly or with the letting agent involved. The Royal Institute of Chartered Surveyors (RICS) advises checking frequency of rent or fee payments before signing any contracts. Money coming out of the business needs to be counterbalanced by funds coming in, or if you are restricted by invoice payment terms, then ask your landlord if settling the rent on a monthly basis is possible.
If you are looking for a shop for rent rather than a space to buy, then consider asking the landlord for a grace period with rent payments. The longer the lease, the more likely you are to be granted this. Also, if there are considerable repairs needed before you can fit out the shop, then use this to your advantage within the grace period.
The layout of the shop space is likely to also play an important part in negotiations. Is the building set back from others? Is it on a split floor? If the answer is 'yes' to both questions, then this gives you significant negotiating power during rental or purchasing stages. Also check if you can sublet the lease or make alterations to the space.
There are many options to negotiate and save money when moving retail property
For renters, the key components of your lease you should negotiate on are:
Base rent
If you are looking at renting the space long term, this will help negotiate down your base rent. However, if you are only planning on renting it short term, then you have less negotiating power and efforts should be focused elsewhere.
Renewal
Annual increases in rent will be worked into the contract. Negotiate on this and fully understand any escalations before entering any agreement.
Utilities and repairs
To minimise utility bills eating into your profits, ask whether some items such as water, gas and electric can be included in the rent. Make sure you understand who is responsible for making repairs to the premises, especially if it is an older building.
Emergency or escape clauses
The future of a business is always uncertain, so try to see if you can include a clause that will allow you to exit the lease prematurely or pass it onto a third party under unexpected circumstances.
Deposit
Most retail rental agreements will ask tenants to pay up to three months' rent upfront. Try to negotiate this down to protect cash flow.
During negotiation stages, take the opportunity to get to know your potential future landlord. Investing time in meeting you landlord face to face will not only help establish a mutually beneficial working relationship, but will also iron out any negative ways of working or allow you to spot potential pitfalls.
Insurance for retail property
Insurance can sometimes be seen as an unnecessary upfront cost and is often considered later on in a company's growth. However, without the right contents insurance, or employers' and public liability insurance in place, your business is open to huge costs if anything goes wrong. The cost of the insurance policy is far less than the cost of paying out against a claim, so if you do rent or buy a shop for your own retail use, ensure it is fully insured and protected against the right conditions.
Having insurance protects you in case the worst were to happen
Industry websites such as Insurance Times will recommend some retail insurers, but make sure you speak to several brokers and gather competitive quotes. Some rental contracts may even include insurance, so read the small print carefully to make sure you are not unnecessarily paying for duplicate cover. Also, don't pay to cover yourself for anything you don't need, but make sure there is cover in place for the essentials so you have peace of mind.
Legislation and Compliance
When looking for shops for rent you also need to consider the relevant legislation. Contact your local council and Trading Standards to ensure you are compliant. Read up on the Sales of Goods Act 1979 and The Supply of Goods and Services Act 1982 to make sure you are selling products as they have been described. Always stick to legal trading hours, abide by all health and safety regulations and ensure that the property has the appropriate classification for its intended use. Fines for non-compliance can be costly and severely affect your shop's reputation, so stay keep up-to-date and seek professional legal advice if you are unsure.
Marketing
Once you are happy that all elements of your retail space are in order, then it is time to start planning and executing your marketing strategy.
Advertising your new store opening will help secure a steady flow of traffic
Promotion is key to spread the news of your store opening and to give shoppers a reason to visit. In store offers, adverts, local newspapers and newsletters, social media, flyers and business cards all provide platforms for talking about your business. Don't forget your shop window is a constantly changing catalogue page, so make sure this represents your brand at its best and is regularly refreshed. Give your new shop the opening it deserves and invite local residents to attend with some special one-off offers. After all, you are part of a community.
Social media is typically the lowest cost option for marketing and if executed correctly can form relationships with thousands of new customers. Build your community online and loyal local shoppers will start to frequent your store. Local PR is also free and can be very powerful. Make sure you contact your local newspaper. If you have an interesting story, they may be interested in writing about it.
Get searching for retail property
If you want to rent or buy retail unit space for your business, you'll need to do a lot of careful planning. But our step by step guide should help you get started and ultimately, agree a great deal so you can get trading and take your business to the next level. So now is the time to get searching.