Where do you start when looking for new industrial space for your business? This guide details everything you need to consider.
Jump to
Choosing the right industrial property for your business
Strong demand for industrial space means it's more important than ever to find the right property. It's estimated that industrial rents will rise by 2.2% annually until 2020, making industrial space the strongest growing area of commercial property.
Nowadays, many companies still prefer to rent industrial property in order to free up their capital and pass on the management of the premises to a third party. It's still possible to buy an industrial unit, but make sure you understand what is right for your business before making a decision.
Industrial property varies broadly and can house anything from food manufacturing plants to storage units. With many SMEs or established companies in need of extra space, make sure you understand the range of industrial property available to you and choose one that fits your business plan. Ask yourself crucial questions that are all linked to your business strategy: do you need a light or heavy industrial unit? How much can you afford to pay per month? Is the space flexible enough for your business? How many workers will you need to employ? Do you need any amenities attached to the unit?
Buying vs renting industrial space
Although renting commercial space is often the default position for the majority of companies, if you have the capital to spare, buying industrial units can be a sound investment. Industrial space itself offers flexible usage which can be split into different areas and is usually more straight forward to let out if you choose to pass it on to a tenant. However, the start-up costs can mount up if you choose to buy an industrial unit, particularly for heavy industrial properties.
Buying industrial space gives you the flexibility to split units to let out
If you choose to rent an industrial space then this will offer increased flexibility as your business grows. You can usually agree a lease length to suit your business, or other specifics such as break clauses. Upfront costs are relatively low, although you will need to employ the services of a team of commercial property specialists to help with your search and the negotiation of your lease. You won't be exposed to interest rate rises if you choose to rent a unit, although check to see how your rent will be reviewed before signing on the dotted line.
Define your property requirements
Your business goals will help you define exactly what you need from your new industrial space. Consider your growth forecasts, workforce size, branding, specifications, facilities, parking, planning and perhaps most importantly, your budget.
Draw up your timelines and start working towards your end goal. Once you have your brief set in stone, use the search function from Harness Property to draw up a shortlist within a certain area or shortlist commercial property agents who have an expert knowledge of your chosen location.
Location is key
Whether you decide to buy or rent, many of the principles for finding an industrial unit are the same. Location should be at the top of your list. With most industrial units to let often situated on the edge of towns or cities, it can be tempting to just think about local road networks, accessibility for large vehicles and the availability of a relevant workforce. Although these factors are important, the rise of digital means that the options for renting industrial units are increasingly more varied.
As well as considering the local infrastructure, it's important to be close to other amenities including a bank in order to deposit cash, a post office to deal with large deliveries and shops for your workers.
Depending on your business, good access to transport links can be critical
Make sure you get to grips with the local market conditions, including rental values, tenant demand and vacancy rates. You will need to understand whether the options available to you are fair and representative of rents in your chosen area.
Some regions also come with additional support for local businesses. These include Enterprise Zones, which come with Government incentives such as reduced tax and easier planning processes. Local Enterprise Partnerships (LEPs) represent agreements between local authorities and businesses which often recognise logistics and transport as an investment priority for their region. Finally, Business Improvement Districts (BIDs) are led by companies and focus on improving an area.
What are the costs associated with buying or renting industrial space?
Finding an industrial unit to let or buy is a complicated process, so make sure you have the right team of experts behind you. A commercial property agent, lawyer, surveyor and mortgage supplier (if you are borrowing funds) should all be on your list. These professionals can add up to 10% to your bill, but their specialist advice is extremely worthwhile, saving you time and potentially a great deal of money should something go wrong further down the time.
The most complicated element of renting industrial property will be agreeing the lease, which will include a detailed list of the associated costs involved with the renting of your unit. One of the biggest additional costs are business rates, which are calculated by multiplying the rateable value of the property by the uniform business rate (UBR). According to the Property Data Report 2014, business rates tend to add about 40% to the cost of renting a commercial property. They are amended every five years, with the latest revisions taking place on 1st April 2017. Bear in mind that you may also need to pay additional business rates costs, so check your lease before you sign.
If your business is situated within a BID (as explained above) then you may also have to pay to address priority issues in the area. In addition, running costs for commercial units can add up, so make sure you understand your Energy Performance Certificate (EPC). This will assess the amount of energy your property will use and contain recommendations about how to reduce your usage and costs. Commercial units are rated from 'A' (most efficient) to 'G' (least efficient).
Check your contract to see who is responsible for maintaining which parts of the property
You'll probably have to pay service costs to rent an industrial property, so check whether you are responsible for maintaining the various parts of the building. Usually the tenant will look after decoration and repairs to the interior of a building and the landlord will look after the exterior. But there may be more major improvement works due which can be expensive, so check what you are eligible to pay outside the usual service costs. The same applies to insurance. Check your policy covers for your business activity but be careful not to duplicate anything that is already covered by your landlord. Sometimes the lease will split the cost of insurance between the landlord and tenant.
Stamp Duty Land Tax (SDLT) is charged on most property transactions, including leases where the value exceeds certain thresholds. The price of a property can make a big difference to the amount of SDLT you will be liable to pay, so check the latest thresholds on the government's website before you draw up your shortlist.
Also factor in charges such as water, drainage, gas and electricity. Finally, you may be eligible to claim capital allowances on assets such as machinery and equipment, the cost of which (or a proportion of the cost) is deducted from your profit before tax is paid.
Health and safety in industrial property
Unsurprisingly, the regulation governing the occupation of industrial property is strict, so it's extremely important to make sure you are compliant. Start by agreeing with your landlord who is responsible for meeting the appropriate fire and health and safety regulations. If in doubt, ask your commercial property lawyer to explain this in detail.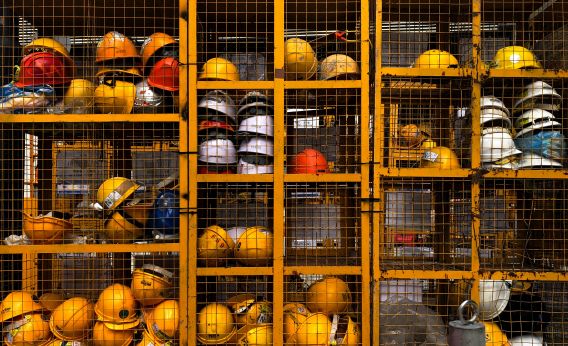 Health and safety regulations are necessarily strict when it comes to industrial property
If you employ staff, you will have a general duty under section 2 of the Health and Safety at Work Act 1974 to ensure (as far as it is reasonably practicable) the health, safety and welfare of your employees. You will also have a duty to look after those who attend your premises but aren't employed as staff.
Looking after the health of your employees will include providing the appropriate measures for ventilation, temperature for indoor workplaces, work in hot or cold environments, lighting, cleanliness and waste. When looking at the safety of your staff, consider the maintenance of your workplace, floor and traffic routes, dangerous substances, transparent glass, windows and doors. Your welfare obligations will include providing the correct sanitary conveniences, washing facilities, drinking water, facilities for changing and space for employees to rest.
The consequences of getting your health and safety obligations wrong in an industrial environment can be high, both in terms of the potential human cost and the financial penalties. The government has produced a useful guide which explains your obligations. When in doubt, always seek professional legal advice.
If you're housing expensive machinery or tools, check that the security of the building during the day and night is appropriate for your goods. Are there any alarms, security staff or CCTV cameras on the premises? Are the locks on your property and any communal entrances adequate? Your insurance should cover you for any losses, but prevention is always better than cure.
Negotiating an industrial lease
A lease is a legally binding document which will list the responsibilities of the tenant and landlord. During negotiations, you have the opportunity to tweak or challenge any area of the lease agreement, so make sure your property lawyer and agent are properly briefed.
The first area you should consider is the length of the lease agreement. The average length of a new lease is getting shorter and now sits at around 2-4 years, but the current demand for industrial property means that your landlord may hold out for a longer period of time. If you need a larger unit then you'll probably need to agree on a longer lease, but make sure it's aligned to your business plan.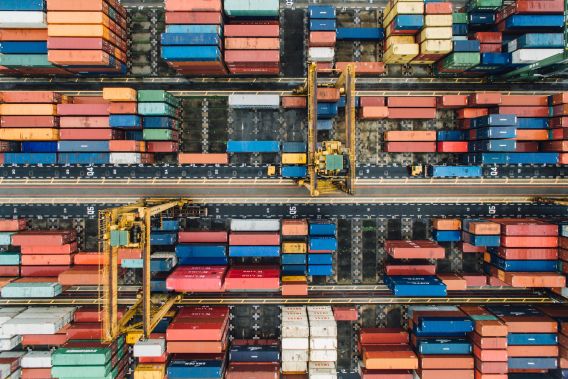 Negotiate break clauses into your lease contract if you anticipate needing the flexibility
If your growth projections are less certain and you need more flexibility, negotiate break clauses within your lease agreement. These are dates agreed by both parties when the lease can be broken. You'll still need to give around two months' notice and your landlord can only use the clause with your agreement. Subletting may also give you leeway to exit the agreement early, so check your lease allows you to pass on the space to a third party. As with office space, if you feel you require more flexibly than a lease can offer, you may like to look at licensing an industrial unit. These usually last around six months and the associated fee will cover most costs.
Make sure you agree how the rent should be calculated, how it needs to be paid (both frequency and method) and whether a deposit (usually 3-6 months' rent) is required before signing on the dotted line. You may also need to provide references that prove you'll be able to settle your rent, or a guarantor if you're a start-up business. You should have a good feel for the appropriate rents in your chosen area, so make sure the amount you will be paying and any rent reviews are fair. If the area is due to receive substantial investment in its infrastructure, then a landlord can look to raise rents to reflect these changes. Finally, ask whether there are any additional fees for shared services such as security, reception staff or car parking space.
Once you come to the end of a tenancy, if your agreement falls under the Landlord & Tenant Act 1954 then you have the right to stay and a new lease will be granted on the same terms – although the rent will usually be reviewed. If you do not wish to stay on, the lease will specify how the unit should be returned to the landlord. Make sure you agree this detail before signing the lease as any oversights or disagreements at this final stage can become very costly. You may wish to employ the services of a specialist before a lease comes to an end to help with any negotiations.
Class of industrial property
Make sure you choose the right class of building before you agree to rent an industrial property. Most commercial units fall into classes B2-B8, with the majority sitting in either B2, which denotes general industrial use, and B8, which applies to a storage or distribution centre. The classes in between are applicable for specialist kinds of industrial processes which are more strictly regulated, for example, if they produce certain chemicals. If you're planning on using your space for office use only then it will likely qualify as B1.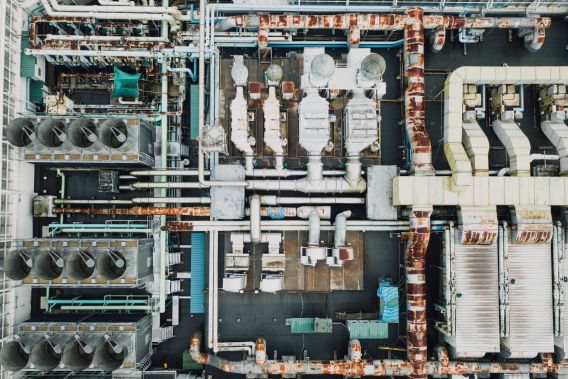 Be certain the building you choose has the right use class for your needs before signing any contracts
If you're planning on converting the space, then you'll probably need to apply for planning permission, unless you are converting from general usage (B2) to business (B1), or changing storage space (B8) to business (B1).
Industrial property due diligence
Once you have drawn up your shortlist of properties, make sure you visit all of them and commission a detailed survey to uncover any potential problems with your chosen building. The Schedule of Condition report should give you a clear idea of the state of the unit and reveal any required works. Remember that some industrial leases will impose repairing obligations on the tenant, so make sure you attach the report to the tenancy agreement alongside all the photographic evidence.
Local searches are usually required as part of the conveyancing process. These will provide information on any future plans scheduled for the local area that may affect the property and help you to avoid any hidden costs after completion. They will also give you more information on the most recent and scheduled changes to an area, such as any planning applications, modifications to any road schemes, and property developments. Once you are happy with these searches, it's time to get your funds in place ready for exchange of contracts and draw up the final detail.
After the terms of your lease have been agreed by both parties, your lawyer can begin drawing up Heads of Terms. These usually list the major points, including the type of transaction, rental value payment method, a description of the transaction and timescales to completion. Make sure you fully understand each of these terms as you will be legally bound to the lease once exchange has taken place (or upon completion in Scotland). After the deal has formally completed, you can move into your new industrial unit and begin to get down to business.
Disclaimer
The content in this post is for informational purposes only and is not intended to replace legal or specialist advice. Before making any decisions we recommend you seek professional advice.