A guide to commercial property, industry and the economy in Scotland's capital city.
Jump to
Edinburgh: Background overview
Scotland's capital city, Edinburgh, is famed for its culture, historic buildings and education. Situated in Lothian in the South East of Scotland, the city is home to 500,000 residents, and has over 4.5 million visitors each year1.
Edinburgh's history
Having had a somewhat tumultuous history, and being at the centre of a number of rebellions, Edinburgh was overtaken by Glasgow as Scotland's largest city in the early 19th century. Unlike many other cities, Edinburgh was not particularly industrialised during the revolution. With the arrival of railways in the middle of the century, the city centre became a major commercial zone.
Improvements, and the clearing up of slum areas began later in the 19th century, which were then repeated after a period of economic decline in the mid 20th century.
In the 1990s a number of financial service companies made Edinburgh their home, turning it into the UK's second largest city for finance. The devolved Scottish Government set up base in Edinburgh after the 1998 Scotland Act.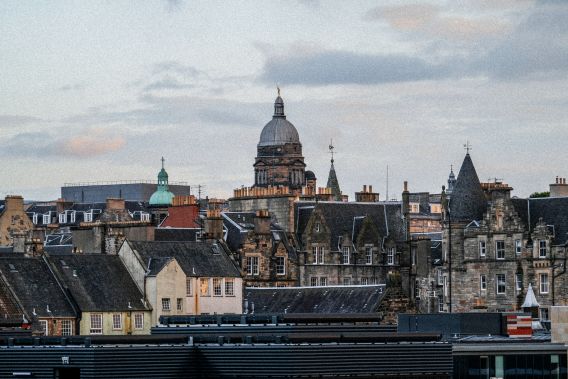 The mix of Edinburgh buildings and architectural styles reflects the different phases the city has been through
Edinburgh's economy and employment
Home to 4 universities, Edinburgh is the 15th most talent rich city in the world2. Over 55% of working age residents are graduates3, and in 2019 it was pronounced the UK's top city for economic growth4.
The banking sector is a large employer in Edinburgh, with a number of banks having offices here. Related services, such as insurance and asset management are also prevalent. Additionally, due to the city's high proportion of universities, technology, the sciences and higher education are also large benefactors to the economy.
Tourism benefits the city's economy, with Edinburgh being the second most visited UK city after London5. Additionally, as the Scottish Parliament is based in Edinburgh, a large amount of employment is in the public sector, the NHS as well as other services.
Transport in Edinburgh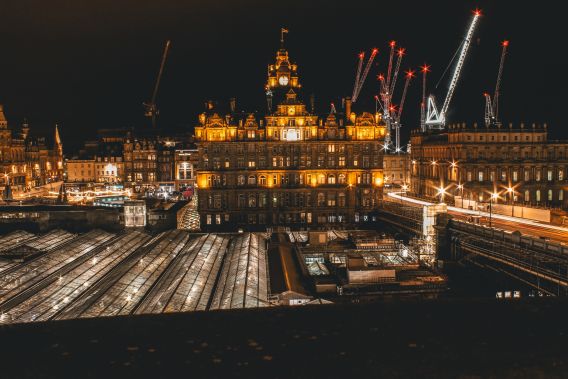 Edinburgh Waverley is the city's largest mainline rail station
Edinburgh's airport is Scotland's busiest, and is served by domestic and international destinations.
Edinburgh Waverley is the city's main rail station, followed by Haymarket as its other mainline station. There are a number of local stations dotted around the city that provide links to some of the suburbs, however buses (which run 24 hours) and trams provide a more comprehensive way of travelling around locally.
Commercial property in Edinburgh
Office space in Edinburgh
Given the prevalence of financial services in the city, it is unsurprising that it accounts for occupying a third of the city's office space. Edinburgh Park is a major space for commercial units located just outside the city, which houses business and technology firms.
In the latter half of 2019, the majority of rentals were for serviced offices belonging to WeWork and Instant Offices6. The volume of office space transacted fell in Q2 2019 when compared to the same period a year prior. Supply also dropped by 12%, which will likely lead to existing occupiers renewing their leases rather than searching for new offices7. Investment yields have remained consistent at 4.5%8.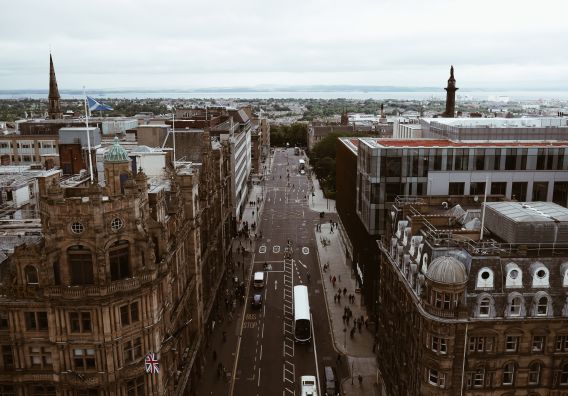 Due to less office space being available in Edinburgh, companies are likely to extend their leases rather than seek out new space
Industrial space in and around Edinburgh
The volume of industrial space transactions in East Scotland remained stable in Q2 of 2019, however the size of the lettings were smaller on average, as demand was primarily generated by SME sized organisations9.
Due to Edinburgh's strong transport links, demand for units and warehouse space remains high and they are also an attractive prospect for investors.
Edinburgh's culture and art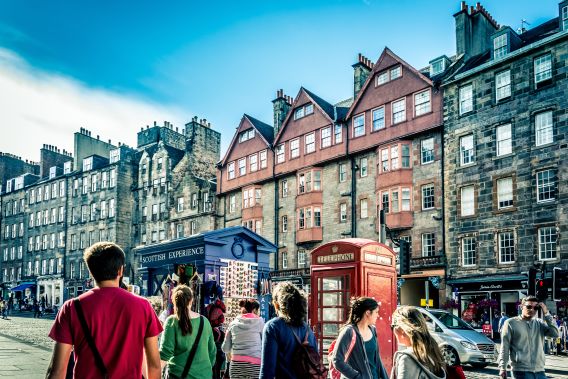 Edinburgh's various cultural attractions mean 4.5 million tourists visit the city each year
Edinburgh is famed for its month-long fringe festival, which runs across the city throughout August and is the largest arts festival in the world. Featuring everything from the polished and professional, to the obscure and the slapdash, the festival has launched household names, and is where many artists come to hone their craft. Shows are played in various venues of every kind around the city, ranging from comedy, and theatre, to circus acts to dance. Find out more here.
Another notable festival in Edinburgh is the International Science Festival which is held for two weeks over Easter and is the largest of its kind in Europe. Capitalising on the city's scientific and academic heritage, the event features discussions, exhibitions and performances designed to get participants thinking about the future.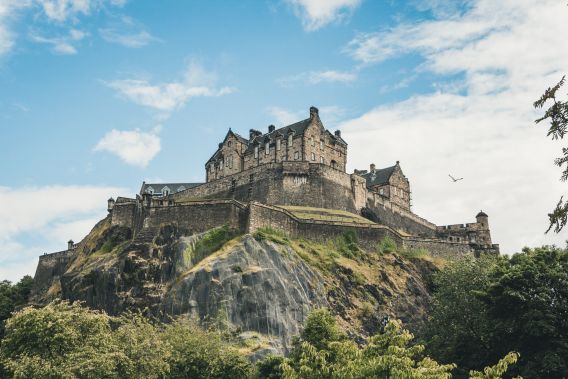 Edinburgh castle
One of Edinburgh's unmissable sights and top tourist attractions is the Castle, which overlooks the city. Its rich history is entwined with that of Edinburgh's, and it has played roles as a fortress and home to royalty.
Areas in Edinburgh
Old Town
A winding set of streets and historic buildings make up the Old Town, which runs from Edinburgh Castle at the top of the Royal Mile to Holyrood Palace and the Scottish Parliament at the bottom. The area is a World Heritage site and is firmly on the map for tourists exploring Edinburgh.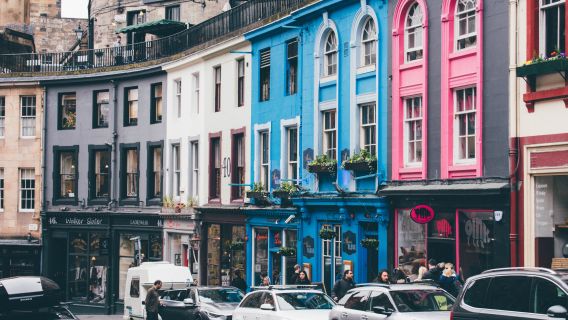 Edinburgh's Old Town is an atmospheric area of Edinburgh that is popular with tourists
New Town
Originally developed to help with overcrowding and slums in the Old Town during the 18th and 19th centuries, the New Town became Edinburgh's city centre. It's an upmarket, architecturally-attractive neighbourhood, with grand buildings and wide boulevards. Many of the city's better-known galleries are located in the New Town, as well as some of the most expensive homes.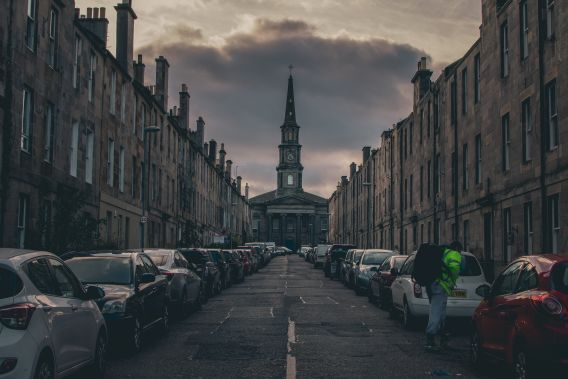 Large townhouses feature in New Town
Haymarket
In the West End of Edinburgh, Haymarket has a mix of residential and commercial properties, and is also home to the city's smaller mainline station of the same name. Murrayfield rugby stadium and ice rink are located in this area, as well as many eateries, bars and shops.
Bruntsfield / Morningside
This peaceful, predominantly residential area boasts a number of charming pubs, café and independent shops, set against a leafy backdrop.
Leith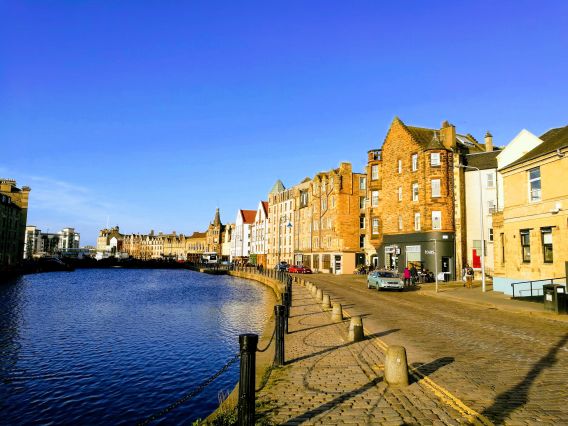 Redeveloped Leith is set against the water
Comprising Edinburgh's port, Leith was redeveloped in the 1980s and is now an eclectic neighbourhood with a wide range of restaurants, bars and independent shops. Leith Links park provides a green expanse and the docklands with the Royal Britannia Yacht attract many visitors.
South Side
Home to most of Edinburgh University, South Side has a bustling feel and is a lively neighbourhood with many students. As well as the expected pubs, clubs and inexpensive cafés and restaurants, Arthur's Seat borders the area and the National Museum of Scotland is also located here.
Arthur's Seat overlooks Edinburgh
Stockbridge
Once on the outskirts of the city, Stockbridge has risen to prominence and has a reputation as a food-lover's destination. There are numerous traditional pubs, as well as impressive architecture and green spaces, plus an artisanal farmer's market every Sunday.
Tollcross
This busy area plays host to much of Edinburgh's lively nightlife, with bars and pubs. There's a diverse mix of cuisines and many of the restaurants are priced affordably.