Learn how much business rates are, which buildings they apply to, and when you should be paying them.
Jump to
What are business rates?
Business rates are a tax paid on non-domestic properties. If a building is wholly, or in part used for commercial purposes then it's likely that business rates will be applicable. 
How much are business rates?
To calculate your business rate, firstly find out the 'rateable value' of the building; this is essentially an assessment by the Valuation Office Agency (VOA) of the property's rental value in April 2015. You can find out your building's rateable value here. 
Then multiply your rateable value by the applicable multiplier. In Wales and the City of London business rates are subject to different multipliers. 
| Year | Standard multiplier (rateable value £51,000+) | Small business multiplier (rateable value £50,999-) |
| --- | --- | --- |
| 2019-2020 | 50.4p | 49.1p |
| 2018-2019 | 49.3p | 48.0p |
Then subtract any business rates relief discounts you are eligible for.
Are there any discounts or reductions available on business rates?
Typically business rates account for approximately 50% of the rental value, and therefore can be a significant cost for many. There are many exemptions and relief available which can help reduce your costs. 
Exemptions apply on certain types of properties, such as farm land and buildings, religious buildings and those used for the welfare of disabled people. Empty properties also don't need to pay business rates for up to 3 months, however after this period most businesses will need to pay the full rate.
Small business rates relief applies to properties with a rateable value below £15,000, and for businesses which only use one property. You can find out more detail about small business rates relief here.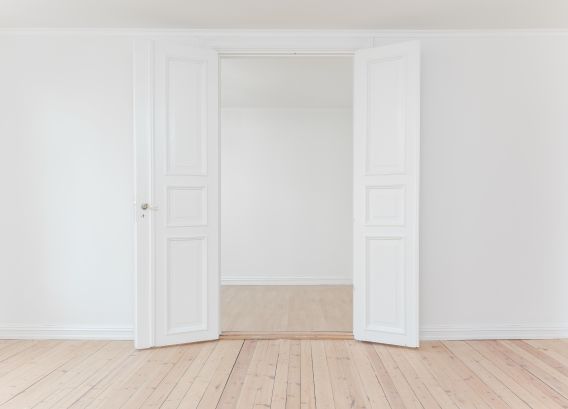 Empty properties are exempt from business rates for 3 months
There are various other discounts available, including for rural, charitable, enterprise zones, hardship and retail. Visit the government website to find out more. To apply for relief, you'll need to contact your local council.
How do I pay my business rates?
You'll receive a bill from the council in February or March for the next tax year. The bill will likely be broken down into monthly instalments. Contact your local council if you think you'll have trouble paying your rates bill.
I think my rateable value is wrong
If you think your property's rateable value is wrong you can apply to the VOA to have it reassessed. It's worth doing some research into rental values of similar properties in your area first. 
Do I need to pay business rates if I work from home?
Usually no, though there are exceptions to this. If you employ someone who works from your home, or you sell goods to people at your home, or if your property is split into commercial and domestic parts, then you may need to pay business rates. Contact the VOA if you are unsure if you should be paying business rates.
Disclaimer
The content in this post is for informational purposes only and is not intended to replace legal or specialist advice. Before making any decisions we recommend you seek professional advice.