Knowing how much office space you'll need can be tricky to get right. Our guide details some rules of thumb you should consider when beginning to look for office space.
Jump to
Office space per person
It's generally accepted to allow approximately 100 sq ft per person. This is based on 50 sq ft per desk in an open plan environment, and 50 sq ft towards communal areas, such as meeting rooms, kitchens and break out spaces. If your work environment is cubicle based, allow 100 sq ft per cubicle.
In areas where office space is expensive companies have been known to reduce space per person to around 70 - 80 sq ft. Alternatively depending on the environment you wish to create, and if budgets allow, you may want to consider increasing above the standard 100 sq ft per person.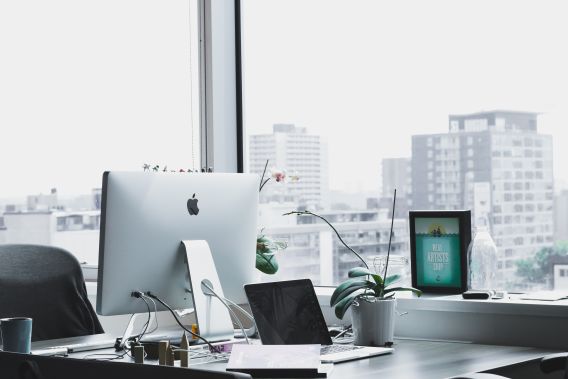 The accepted standard rule of thumb is to allow 100 sq ft per person
Office space calculator
To provide an approximate guide, we've calculated the space required for common office areas.
| Type of space | Number of people | Sq ft |
| --- | --- | --- |
| Open plan desk | 1 | 50 sq ft |
| Small meeting room | 2-4 | 100 sq ft |
| Large meeting room | 4-8 | 150 sq ft |
| Board room | 15-20 | 220 sq ft |
| Conference room | 20-30 | 300 sq ft |
| Break out space | | 200 sq ft |
| Kitchenette | | 100 sq ft |
| Small office / cubicle | 1 | 100 sq ft |
| Office with small meeting table | 1 + 2 for meetings | 200 sq ft |
| Office with meeting table | 1 + 4 for meetings | 250 sq ft |
| Small reception area | 1 | 150 sq ft |
| Large reception area | 3 | 350 sq ft |

How much office space will I need?
While the above provides a helpful starting point when beginning your office space search, it's important to consider a range of factors which will impact the amount of space you require. There isn't really a standard office size that exists, even for companies with similar numbers of employees, as many things affect how much space is required.
The amount of space you require will really depend on the environment you wish to create
Things to consider when calculating office space include
Company plans - are you likely to be increasing the number of employees, or downsizing?
How many employees work remotely
How far employees will be situated from natural light
How many meeting rooms and communal spaces you require - will this change as the business changes?
What sort of environment do you want to create?
The shape of the space - there may be unusually shaped spaces that will be difficult to use effectively.
An architect or space consultant can help advise you on the best use of the space, and we'd recommend you liaise with them before signing a lease.
Disclaimer
The content in this post is for informational purposes only and is not intended to replace legal or specialist advice. Before making any decisions we recommend you seek professional advice.