There are a number of advantages to renting office space. Here we investigate the main benefits to businesses of choosing leasehold offices over freehold.
Jump to
Cost advantages of renting office space
For many start-up businesses capital simply isn't available to invest in a deposit to purchase an office, and in the short to medium term renting is more economical.
Leasing office space saves on having a large chunk of capital tied up in a mortgage deposit. It's common for office leases to come with rent-free periods, typically the longer the rental term, the longer the rent-free benefit is likely to be.
Depending on the terms of the lease, the landlord could also be responsible for buildings' insurance and maintenance costs which provides an additional cost saving.
It's worth bearing in mind that it can be difficult to accurately anticipate your monthly rental payments over the entire lease term as you may be subject to rental reviews, so for some the clarity provided by fixed mortgage costs is more beneficial.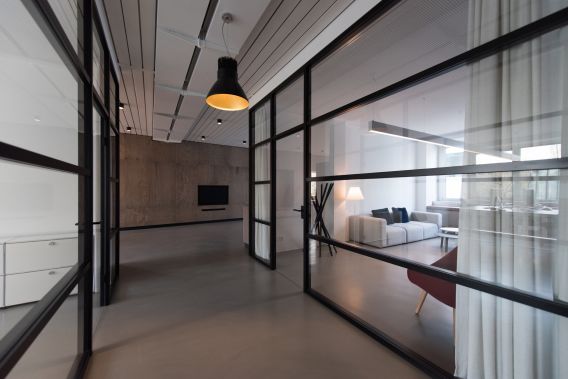 Renting office space can be more economical in the short to medium term
Location advantages of leasing office space
Premium office space in a desirable area comes with a hefty price tag.  If you want to represent your business to clients and prospects in a particular way, the office sets the tone for how established and professional you are.
Large commercial agents often buy up top tier office space for rent, so it's more straightforward to find rental properties in your desired location.
Flexibility of renting office space
If your business grows, or downsizes, owning an office may become a burden. It can be time consuming and difficult to rent or sell your office, and owning excess or unusable space is an unnecessary extra cost which could leave a hole in your budget.
There are more offices for rent than for sale, so you'll have a better chance of finding a rental property that meets your requirements as opposed to a new freehold office.
Check your contract, but often break clauses are included, allowing you to end tenancy sooner if the office no longer meets your business's requirements.
Serviced offices compared to conventional office rental
A serviced office gives you the ultimate flexibility, with contracts from as short as one month. You can rent space by the number of desks you need, and the office will be furnished, usually provide break out spaces and meeting rooms, meaning you can move in right away.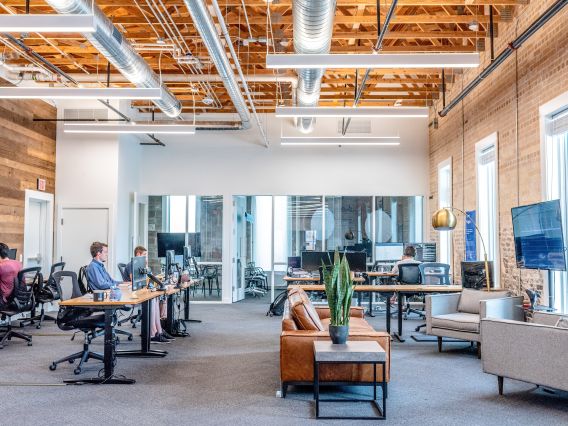 Serviced offices will mean you're working alongside other businesses
In a serviced office you'll be sharing the space with other companies, which may provide networking opportunities and potentially a more lively atmosphere.
Utilities, WiFi, conferencing facilities, cleaning and even drinks and snacks can be included.
However, choosing a serviced office will likely be more expensive than renting a conventional office space. A conventional office allows you to choose the furnishings and fit out, so you can decorate the space in line with your brand.
Disclaimer
The content in this post is for informational purposes only and is not intended to replace legal or specialist advice. Before making any decisions we recommend you seek professional advice.