What are the advantages to choosing co-working spaces over traditional offices, and what types of organisations are shared offices best suited for?
Jump to
What is co-working space?
Co-working space, or a serviced office, is typically an office or building shared by a number of different businesses and individuals. The building is serviced and there will often be communal breakout spaces, shared facilities such as front of house services, and desk equipment provided.
According to research, employees based in co-working spaces tend to report thriving more than those based in regular offices(1). While the cause of this disparity isn't solely due to co-working, there are a number of advantages to choosing shared office space for your business.
Benefits of choosing co-working space for sole-traders
For people who work alone, the community and social environment offered by a co-working space is often desirable to prevent cabin fever. Opportunities to network, and the accountability fostered by being visible in an office environment can also boost productivity.
Benefits of co-working for start-ups
While co-working spaces have a reputation of being used by freelancers, increasingly small businesses are choosing them as the home of their business.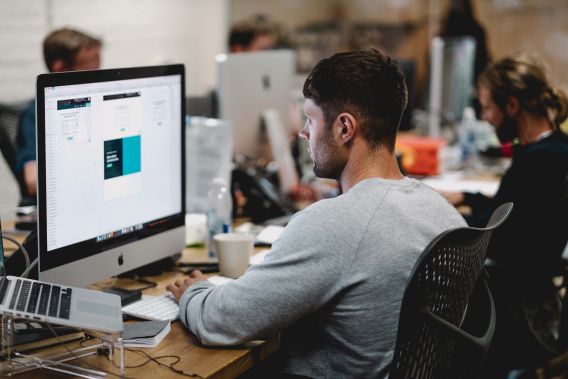 Shared office space provides flexibility to expand as your business does
For small businesses and start-ups shared office space offers flexibility, meaning as the company grows and takes on more employees it's easy to expand. Chance meetings in the building may present unexpected business opportunities and being around different types of organisations could encourage lateral thinking leading to disruptive innovation.
Advantages of co-working spaces
Contracts are available for short terms, allowing desks to be rented for as long as they're needed. Additionally, serviced offices provide a professional location to meet clients, plus bookable meeting rooms. Shared amenities, and the ability to get working right away with tech and furniture supplied are advantages for all, regardless of whether you're an established company with a number of employees, a start-up, or a freelancer.
What are the disadvantages of choosing co-working?
The flexibility and amenities provided by shared offices do come at a cost, and leasehold offices will work out cheaper in the medium to long run. You can't control your neighbours, and while it's unlikely, you might find certain characters or styles of working a nuisance. You also won't be able to brand the space to match your business.